About Dr. John Provet
Dr. John Provet is an exceptional technical surgeon with a compassionate bedside manner. He currently serves as a clinical assistant professor of urology at New York University School of Medicine. As a senior urologist, Dr. Provet has studied renal malignancies for several years. In fact, he was one of the first urologists to promote and describe partial nephrectomy for renal cell carcinoma. Consequently, he is also one of the first to publish a series on nephron sparing surgery for renal cancer. Dr. Provet also serves as a clinical research sub-investigator in numerous ongoing clinical trials studying various pharmacologic therapies and diagnostic techniques for the treatment of ED and concomitant lower urinary tract symptoms, BPH, premature ejaculation, chronic non-bacterial prostatitis, prostate cancer, and cuti or acute pyelonephritis.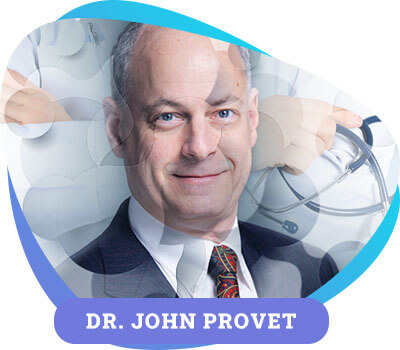 Specialties
Urologist
Practice names
Hospital affiliations
NYU Langone Health
Board certifications
American Board of Urology
Education and training
Medical School - New York University, Doctor of Medicine
New York University, Residency in General Surgery
New York University, Residency in Urology
Professional memberships
American Urological Association
Languages spoken
English
Provider's gender
Male
NPI number
1023083078
Dr. John Provet's office locations
University Urology
215 Lexington Avenue, 21st floor
New York, NY 10016
University Urology
215 Lexington Avenue, 20th Floor
New York, NY 10016
Patient reviews for Dr. John Provet
All reviews have been submitted by patients after seeing the provider. For more information about Zocdoc's review system, check out this FAQ.
I've left Dov Provet then come back but o just don't feel like I can ask questions I'll pretty sure I'll be leaving again.
October 24, 2019 — Bruce A., verified patient — Source: Zocdoc
Dr. Provet has been my urologist for many years. He is pleasant, knowledgeable and professional.
January 21, 2020 — Robert B., verified patient — Source: Zocdoc
He is a fine example of the professional. Focused, answered asked questions, explained test purpose and results. Friendly.
May 9, 2019 — Lance S., verified patient — Source: Zocdoc
I always enjoy my visit at Dr. Provet's office. His staff is always professional and extremely comforting.
October 10, 2019 — Anthony B., verified patient — Source: Zocdoc
Short, sweet and professional from the receptionist to Dr. Provet and the staff in between.
October 15, 2019 — Joseoh S., verified patient — Source: Zocdoc
As always he is very professional and takes the time to answer all your questions.
January 7, 2020 — Initials hidden — Source: Zocdoc
His administration of treatment was very professional and very compassionate at the same time.
August 9, 2019 — Willy R., verified patient — Source: Zocdoc
Like him and comfortable with him. Very much to the point. Yet comfortable and likable.
Less than 6 months ago — Jay G., verified patient — Source: Zocdoc
Dr Provet was efficient and came quickly to the direct points. Physical exam portion of the appointment was seamless.
July 31, 2018 — Kevin M., verified patient — Source: Zocdoc
Dr. Provet was great in explaining the procedure as he was preforming the biopsy. He made me feel comfortable.
More than 1 year ago — Keith O., verified patient — Source: Zocdoc
Articles